Dit artikel kreeg ik in mijn mailbox van
NGC
; best een aardig beestje.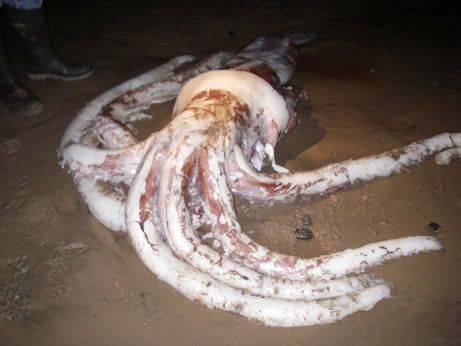 July 11, 2007—
In the mystery surrounding one of the sea's most elusive creatures, this body is more of a clue than a victim.
One of the largest giant squid ever found washed up on a beach in southern Australia yesterday, offering potentially crucial insights into the animal's habits and habitat, scientists said.
The squid was discovered on a beach late at night on the western coast of Tasmania (see
map of Australia
).
Biologists who inspected the squid said it weighed some 550 pounds (250 kilograms) and stretched 26 feet (8 meters) from head to tentacle—about as long as a school bus.
But the beast might have been even longer when it was alive, because the tentacles appeared to be badly damaged.
"It's a whopper," Genefor Walker-Smith, curator at the Tasmanian Museum, told the Reuters news service.
Another giant squid bearing similar injuries
washed up on a Tasmanian beach in 2002. Scientists at the time suspected that the wounds were the result of a raucous sexual encounter, suggesting that giant squid may breed nearby.
There was no word on the cause of death of the newfound squid, but scientists have collected tissue samples to conduct DNA and other tests. The results could shed new light on an animal that is rarely seen outside the darkness of the deep.
A live giant squid was
photographed for the first time
in 2004, and another was
captured and filmed a year later
, both off the coast of Japan.
—Blake de Pastino

_________________
Credo quia absurdum ?!